What options are there for a polished concrete look?
We have a lot of options when it comes to the appearance of your polished concrete. For example, when it comes to how much stone/aggregate shows, you can choose to have no stone/aggregate showing at all, a random, meandering pattern of stone showing throughout, or a full exposure that shows all the stone. We call these categories Nil Exposure, Minimum-Random The one you choose depends entirely on your own preferences and the space where your polished concrete will be.
Along with choosing the precise amount of stone exposure that you want, you can actual choose the level of gloss/sheen that you want. The sheen refers to how shiny your floor is, and if you don't want your floor to be shiny, you can a matte floor with no actual shine. This type of look will have very little clarity or reflection. If you would prefer to have a little bit of sheen but not too much, you could choose what we call our satin finish, which has a low-lustre matte look. There is also a low gloss option that has higher sheen and reflectivity, or if you want an extremely shiny look, you can choose a high gloss. The highest gloss level can even look like a mirror finish if that is the kind of look you want for your polished concrete.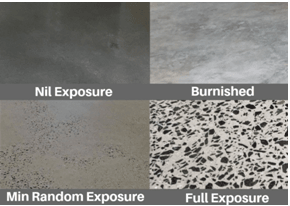 Another choice you may have in terms of appearance is the colour. Please keep in mind that if your floor is an existing slab, you will not have a choice in the colour. However, if you are going to have a new slab poured, you can choose between standard grey or a colour mix. Boral, Hanson, Vic Mix and Mentone all have a wide variety of colour mixes to choose from.