How to Choose the Right Concrete Grinding Contractor
You've likely noticed an increase in clients requesting concrete flooring in their new builds and renovations, that's because concrete looks great, is easy to maintain, and is more durable than other popular flooring options. This means you're going to need to hire concrete grinding contractors for many current and future jobs – but how do you figure out who the best person to hire is?
At Grind and Seal, we're the concrete grinding and polishing experts, so you'll be on the right path to hiring the perfect person for the job.
Why go for professional grinding contractors?
Hiring a professional gets you great results
The process of grinding and then polishing concrete flooring is intricate. There are many steps involved and getting something wrong commonly leads to a beyond-repair floor, or costly fixes, and a blown-out timeline for your project. Simply put, trying to save money by doing it yourself or bringing in a mate who says they know what they're doing just isn't worth it.
Beyond minimising risk and getting a nicer looking floor, which really should be motivation enough to go professional, hiring professional concrete grinding contractors will also get you:
Access to higher-quality associated tradespeople and materials, through the contractor's contacts within the concreting industry
Easy access to professional machinery and tools, which will lead to better floors and a higher efficiency
A reduced workload because it's one less thing you need to do (or re-do)
All this considered, choosing to hire a professional is an easy decision to make.
Why not hire the first contractor available?
Unlike the rest of the construction industry, the concrete polishing industry is still unregulated. There are no accredited courses available that will give someone a specialised polished concrete trade qualification. Why is this important? It's important because accreditation means the quality of the training meets strict guidelines and standards. Unfortunately all concrete polishing training still happens without oversight by a regulatory body, and this has unfortunately led to a high number of shoddy polishing contractors selling their services.
Many grinding equipment retailers run 2-to-3-day in-house courses to teach people how to use their equipment to polish concrete and then supply in-house certificates, but they really only 'scratch the very surface'. It takes years of on-the-job experiences, cumulatively accumulating a wide base of knowledge to be able to judge what each individual slab needs to make it work; this isn't something you can learn in a quick course designed to sell equipment or products.
Don't despair though, there are plenty of good, reliable contractors out there – you just need to know how to spot them.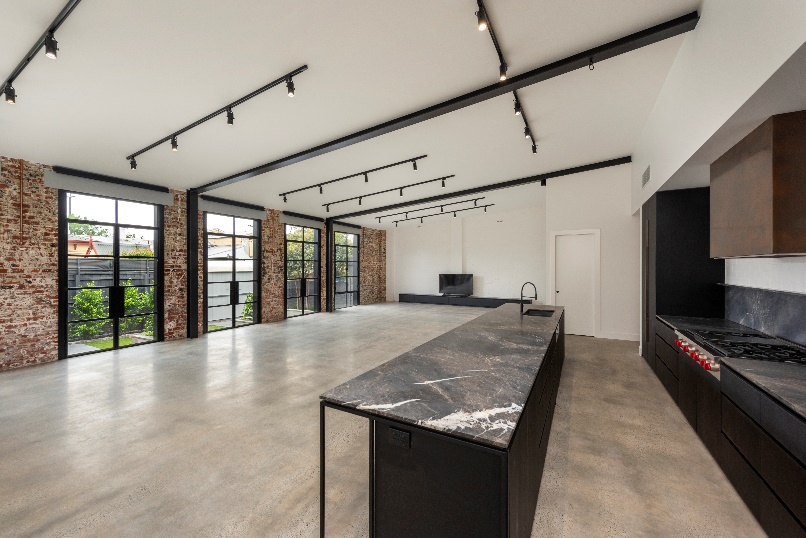 A reliable, experienced contractor will help your project run smoothly
Tips on Choosing a Contractor for Grinding Concrete
There is no shortage of concrete grinding contractors in Australia, a quick Google search will net you thousands of results. The best way to sort through all the options to find contractors worth considering is to follow these tips:
Prioritise Experience – Like most trades, experience is everything when it comes to developing into a good and reliable concrete grinding and polishing contractor. Judging what individual concrete slabs will need by sight can only be achieved by someone who is very experienced, and judging these things incorrectly will lead to a concrete floor no one is satisfied with. Building an arsenal of great tools is also something that comes with time and experience. All our equipment has dust extraction (even the hand tools!), and we use corner tools while other, less experienced contractors will often use hammers and chisels. We are good judges of concrete and own all the necessary machinery and equipment, because we've put in the years to gain the experience – we've completed thousands of floors, not just hundreds.
Verify Insurance – Concrete grinding and polishing is a tricky business, so there is always a chance of something going wrong. This is why you need to check the insurance policy of the contractor you're potentially hiring – would your project be covered if something gets damaged or someone gets hurt? Sometimes accidents happen and you don't want to be responsible for the cost of payouts or property rectifications.
Compare Prices – Every concrete grinding contractor should be able to provide you with a quote estimating the cost of your project, so compare them to make sure whoever you hire will do the work for a reasonable price. That being said, don't just choose the contractor offering the cheapest service because their services may be low quality, which will lead to a cost blowout when you need to pay to fix the floor.
A quick Googlesearch will help you find a contractor you can trust
Research Online Reputation – The beauty of the internet is that you are always just one search away from figuring out which contractors you can trust, and which ones you should avoid. Most concrete grinding contractors with an online presence will also have reviews written about them, so read those reviews before choosing who to hire. A trustworthy contractor will have multiple reviewers and a 4+ star rating, with the dates of the reviews spanning a number of years. Be wary of contractors that have multiple bad reviews, very few reviews or who have a lot of good reviews but all posted within a short timeframe, such as a couple of weeks.
Review Previous Work – Contractors should be able to provide you with a portfolio of the work they've done on previous projects, this is the easiest way to check whether they're capable of meeting your concrete grinding needs. When discussing previous jobs with a contractor, they should be able to explain to you the process they used to get the results in the photos you're looking at. This is a good way of ensuring they know what they're talking about.
Conclusion
Finding the right contractor for your job can be tricky, there are many things you need to consider. But, once you've found the right person for the job, you will find concrete flooring to be a great option – it's stylish, easy to maintain, and very durable.
At Grind and Seal, we are experts with over 20 years of commercial and industrial experience in the fields of concrete grinding, polishing, and sealing. If you want more information about best practices when installing concrete flooring, make sure to check out our other blogs. Looking for a concrete grinding contractor? Contact us at Grind and Seal Melbourne for additional information and a free quote.